More than 42 projects are changing the face of this riverside district. The old industrial sites in Nine Elms are in the process of being completely transformed, opening up new routes and the riverside walk, and providing a more pedestrian-friendly environment. There are new public squares, parks and footpaths created alongside major improvements to local infrastructure.
Construction contacts
Construction related query? Get in touch directly with those leading the redevelopment.
Maps
At 227 hectares, Nine Elms on the South Bank is by far the largest regeneration zone in central London and sits across the London boroughs of Wandsworth and Lambeth. Explore what's going on in Nine Elms through our maps.
Northern Line Extension
An extension to the Northern Line is opening on 20 September 2021 with two new Tube stations at Nine Elms and Battersea Power Station. This new 3.2km branch line from Kennington forges a direct link from Nine Elms to Westminster, the City and Leicester Square, all in under 15 minutes.
River, parks and gardens
Nine Elms is becoming a green and walkable district with plenty of public space and outdoor areas. A new section of Thames River Path will run through and host an array of riverside shops, cafes, restaurants, art spaces, parks and public squares. It will complement a new linear Nine Elms Park that is opening in stages through the centre of the district, creating a beautiful green corridor between Battersea Power Station and Vauxhall Cross. Find out more about Nine Elms Park.
Vauxhall
Instead of a congested traffic gyratory, Vauxhall is being transformed by the creation of a recognisable 'heart of Vauxhall'. This will have new walkways, shops, a variety of homes and a collection of restaurants. Vauxhall is being restored to the living district centre it once was.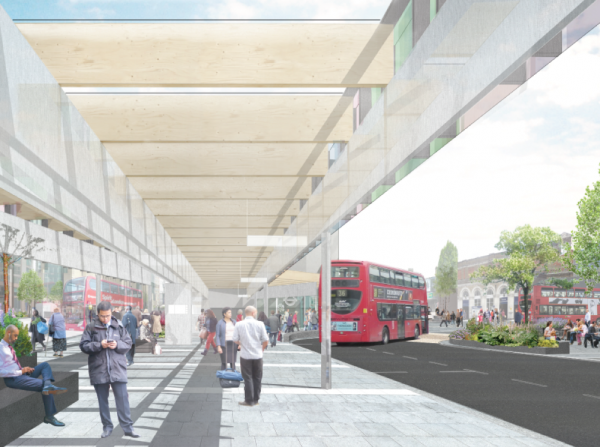 New Thames bridge
In 2019 a preferred location was identified for a new Thames bridge linking Nine Elms and Westminster. The location crosses the river between Grosvenor Road riverbank (west of Claverton Street) on the north side of the Thames at Pimlico and Kirtling Street, near Battersea Power Station in Nine Elms on the south side.