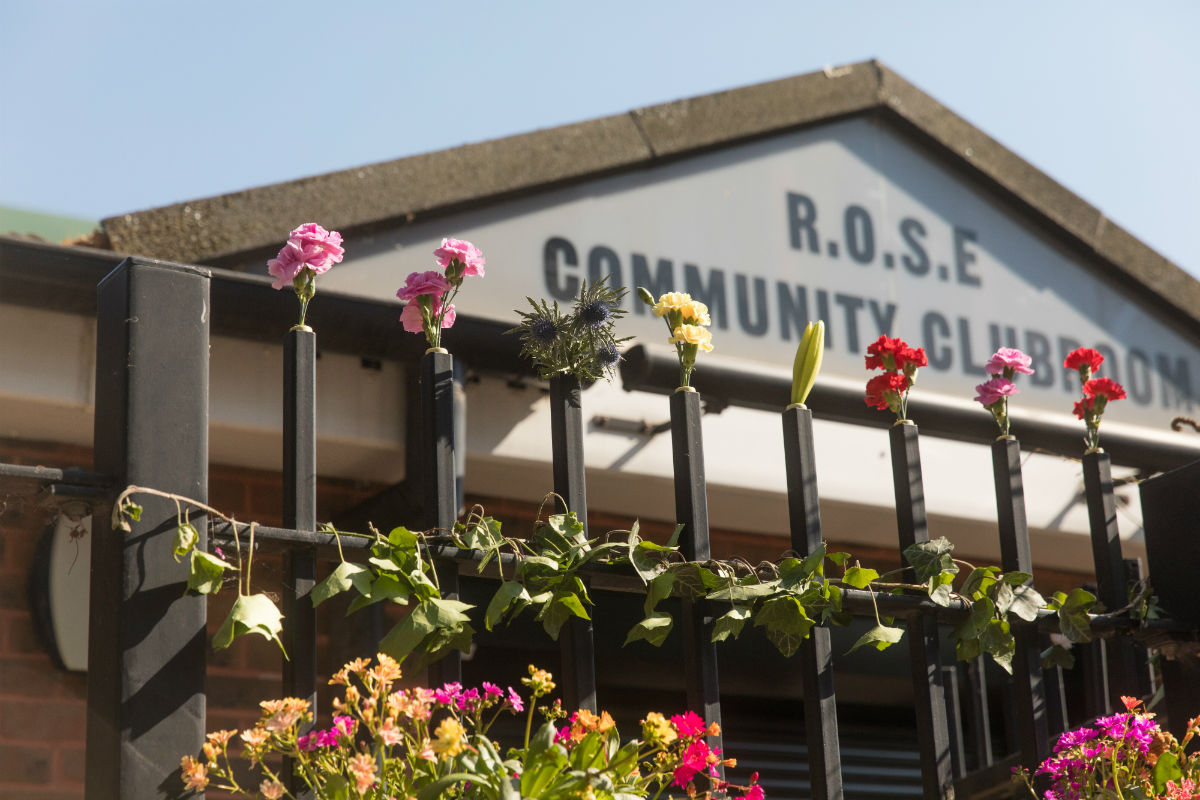 Nine Elms is a thriving community of people where residents, local groups, businesses and cultural organisations come together.
The ROSE Community Clubroom is set in the heart of Nine Elms on Ascalon Street. It has become a well-used social hub where residents come together to enjoy a range of activities, from arts and culture to youth groups, exercise classes and gardening.
Address: ROSE Community Clubroom, Ascalon St, Nine Elms, SW8 4DL
Find out more about upcoming events and activities at the ROSE below.
---
Mondays At The ROSE – crafty coffee mornings
The community centre is open to local residents every Monday from 11-1pm, with free tea and coffee and crafts. Find out more about our coffee mornings.
Plus, hot meals are served in the afternoons by Waste Not Want Not.
---
Free yoga classes for all levels
Mondays at 7pm and Wednesdays at 10am.
Led by Yoga and Breath Coach Stephanie Veillas. Classes are packed with mood boosting sequences and breathing techniques to reduce stress and anxiety and to bring out inner joy and peace.
Light stretches and whole-body strengthening exercises will be tailored to specific needs.
Price: FREE
For more information and to register your place, contact Glenn Burnell Glenn.burnell@richmondandwandsworth.gov.uk
---
Gardening club 2023 – starting this April
Are you green-fingered or would like to try gardening? The community garden at the ROSE is looking for volunteers to help planting and maintaining the outdoor space for everyone to enjoy.
If you can give at least 2 hours a month of your time and would like to have access to special visits and gardening-related talks, get in touch with Glenn to find out more and put your name down! Glenn.burnell@richmondandwandsworth.gov.uk
---
Community Engagement Advisory Group (CEAG) meetings
Find out what's happening in Nine Elms through the next community engagement advisory group meeting held on Wednesday 21 June.
At this evening meeting held at the ROSE, residents and local businesses can hear from council representatives, local partners and construction and development organisations about the latest exciting changes, opportunities and improvements taking place in the neighbourhood.
Contact Glenn Burnell to reserve your place at Glenn.burnell@richmondandwandsworth.gov.uk
---
Venue for hire – book the ROSE
The centre has recently been refurbished and has capacity for 100 people within two halls and a garden. The space is wheelchair accessible and fitted with a modern, fully equipped kitchen to cater for events. The centre is available for local residents and organisations to hire.
Contact Glenn.burnell@richmondandwandsworth.gov.uk to find out more.